SKYWALK HAWAII TOUR (aka Haiku Stairs Tour)
–10%
Welcome to the Skywalk Hawaii Adventure, also known as the Stairway to Heaven or Haʻikū Ladder, is a steep hiking trail on the island of Oʻahu, Hawaii. The total 3,922 steps span along Oahu's Ko'olau mountain range.
Hardest Hiking Tour of Oahu
Highest Hiking Tour of Oahu
Most Scenic Tour of Oahu
| | |
| --- | --- |
| Included | free shuttle, guide plan |
| Not included | drinks, food, equipment |
| Duration | 4 Hours |
| Bring along | good shoes |
| Participants | minimum participants 4, maximum 12 |
| Languages | German, English, Italian |
| Requirements | basic health condition |
Venue
Honolulu Zoo
150 Kapahulu Avenue, Honolulu, HI 96815, USA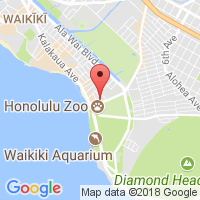 Further information
Moanalua Valley Trail to the Haiku Stairs (Stairway To Heaven) is a 9.3 mile moderately trafficked out and back trail located near Honolulu, Hawaii that features a river and is only recommended for very experienced adventurers. The trail offers a number of activity options and is accessible year-round. Dogs are also able to use this trail.
PLEASE NOTE: The act of being ON the Haiku stairs at any point along the route is trespassing on government property. Violators/trespassers are SUBJECT TO $1000 FINES, COMMUNITY SERVICE, BENCH WARRANTS, AND/OR ARREST. If you receive a citation you will be required to appear in court. The ONLY way to LEGALLY hike TO the Haiku Stairs (Stairway to Heaven) starts at the Moanalua Valley Road trail and proceeds to shoot off to the left at about 2.5 miles. Though it is by far the easiest way up, it still has some sections of near vertical, rope and muddy sections. Use caution when hiking as this is a steep and sometimes muddy hike that has had injuries and fatalities. Hikers MUST be mindful of neighborhood residents who live in this area. Noise complaints, parking violations and exiting the trail via residential properties will result in a fine.
0 Reviews
Unfortunately there are no reviews available. Be the first to review SKYWALK HAWAII TOUR (aka Haiku Stairs Tour).